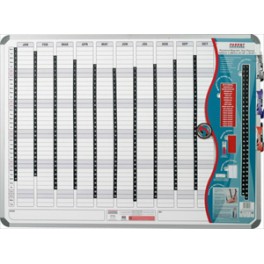  
Parrot Magnetic Year Planner 1200mm x 900mm
Tax included
Shipped when received from the supplier
Parrot Year Planner 1500mm x 1200mm
Magnetically receptive Steel surface.
Concealed mounting (wall screws and masonry plugs supplied, 6mm).
Additional brackets for boards larger than 1500mm.
Slide-in aluminium pentray (450 x 35mm).
Pentray packed in back of board to ensure no damages while being transported.
Can be used with the Easy Rail System.
Anodised aluminium frame.
Includes mounting instructions.
Boards larger than 1500 x 1200mm supplied with two pentrays.
Also supplied with:

1 Blue Wet Erase Marker
1 Red Permanent Marker
1 Black Slimline Dry Erase Marker
Magnetic Date Strips
Public Holiday Markers
Planning Shapes
2 Label Carriers

PPAL3040 date strips replacement kits available for 1200 x 900mm boards.
PPAl3041 date strips replacement kits available for 1500 x 2400mm boards.